7 minutes read
— 1451 words
I bought a Unihertz Atom XL in early 2022, aiming to find a small phone with a long battery life. I wanted a phone that was less obvious in my pocket, was easier to hold and navigate with one hand, and, I hoped, would be a little more utilitarian and a little less addictive. There are almost no Android phones out there under 5", and so very quickly I ended up browsing Unihertz's catalog, and I settled on the Atom XL. It sounded good on paper: small size, 3 day battery, 48MP back camera, rugged build quality, dual sim, and, bonus, it has a built in walkie-talkie! There are quite a few reviews of this phone out there, but all of them are from people who tried it for a couple of weeks at most, so I thought I'd post a review. Let's just get this out of the way with, if you're in a rush: unfortunately, you almost certainly should not buy this.
Battery
Let's start with the battery. Out of the box, the phone does indeed have a more or less 3 day battery life. This is accomplished in three ways: a) there's a fricking giant battery in it (4300 mAh); b) small 4" screen (which was on my list of desirable features); c) software which aggressively shuts down background apps. #a and #b have compromises associated with them: the size of the battery means that the phone is both fairly thick and fairly heavy - which unfortunately means that it was just as much an inconvenient presence in your pocket as a larger, thinner, and lighter phone such as various Samsungs or Pixels.
The software, on the other hand, makes the phone buggy and hard to use until you turn it off completely, and when you do the battery life drops by 50%. Called "App Blocker", the goal is apparently to aggressively turn off background services in an all-out attempt to make the phone last as long as possible. Unfortunately this leads to things like wifi not automatically connecting when you move between APs, calls being missed, whatsapp being unable to sync, google photos being unable to sync unless you force it to upload while the app is open, custom launchers won't start when you unlock your phone, and on and on. In other words, this app exists purely for marketing purposes. If you cripple your phone, the battery will last for several days. If you want to actually use your phone, you get a day and a half out of it at best (which isn't bad, of course, but it's a long way from what's sold). Unfortunately this seems to be a theme with Unihertz.
Wifi
It doesn't seem unreasonable that Wifi should be expected to just work. It is, after all, 2022. However, good luck if you have a mesh wifi system in your house (or office). Per Uniherz support (direct quote): "Unhertz mobile phones cannot support mesh mode wifi system. Although some customers reported that there was no problem, other customers reported that there was always a wifi disconnection problem." Just the tone of this statement fills me with rage: essential and basic functionality isn't supported properly by our driver; some customers have no problems, and some customers do; what do you want us to do about this, actually fix it with some urgency? Don't be silly. Instead, the recommended solution is to turn off DHCP for the AP that's having the issue, and instead configure the phone to have a static IP.
If you don't, you'll be able to move between nodes in the mesh a few times, but after that the phone starts refusing to connect; rebooting is required to reset whatever cache or buffer is erroneously filled up internally. Given that it works sometimes (and reliably stops working after a certain number of switches,) this seems like it it should be relatively easy to isolate. But, it seems, Unhertz's developers are too focused on making gimmicky features for the next phone being launched than patching issues in current phones.
The Walkie Talkie
Oh hey, did somebody mention gimmicks? So, relevantly, let's talk about the walkie-talkie: it's a gimmick. You can (apparently) broadcast relatively trivially. However, if you want to leave the walkie-talkie listening for a reply, it absolutely destroys battery life (because, apparently, the radio has to be active) - we didn't do this for a full day, but you'd have well under 7 hours on a full charge without the aforementioned App Blocker being active. Given that the use case for a walkie-talkie would be emergency during outdoor activities (see the marketing image below), the compromise of destroying battery life doesn't make this worthwhile. Furthermore, amusingly, if you haven't yet turned off their App Blocker, the walkie talkie cannot function in the background, meaning that you have to keep the app active and the screen on to do anything useful with it. Why include such a useless feature, then? Again, marketing.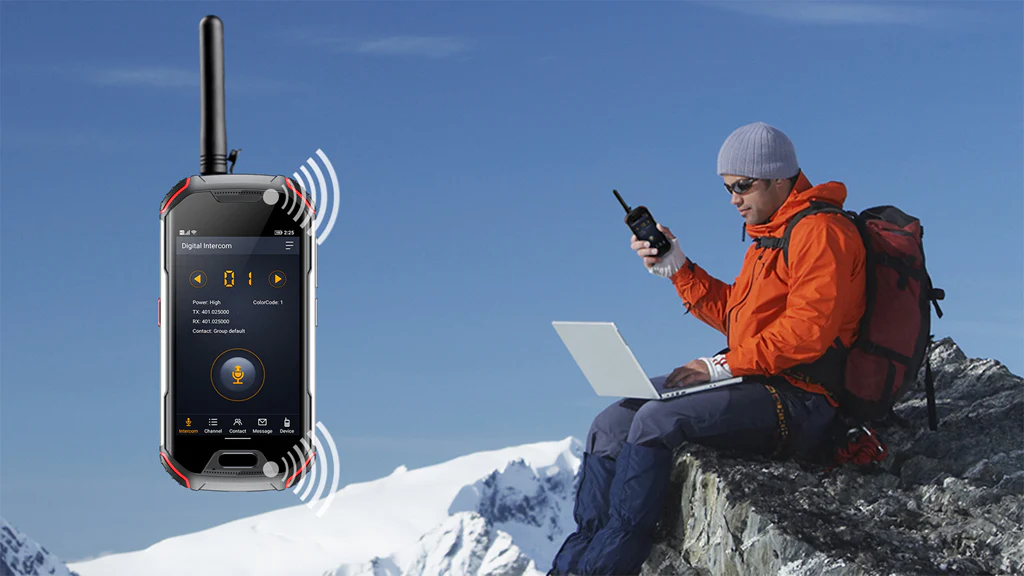 The Camera
You may be detecting a theme. Splashy features, sub-par implementation, critical issues that go unpatched. Let's talk about the camera!
48MP is a lot! For a photographer, this sounds really good. If the camera was in fact awesome, I could maybe forgive the problems we've talked about so far - but it's not. Of course, you don't get the Google Camera app out of the box (actually this was surprising to me, since I've had a series of Nexuses and Pixels, and just assumed Google Camera was something that Google packaged with Android); instead, you get Unihertz's own camera app, and unfortunately the image processing and/or drivers are straight up buggy.
Let's take a look at a photo. This is a section of jungle taken from my back patio. As a casual snapshot, it's OK, but it's nothing compared to better phones with lower resolutions.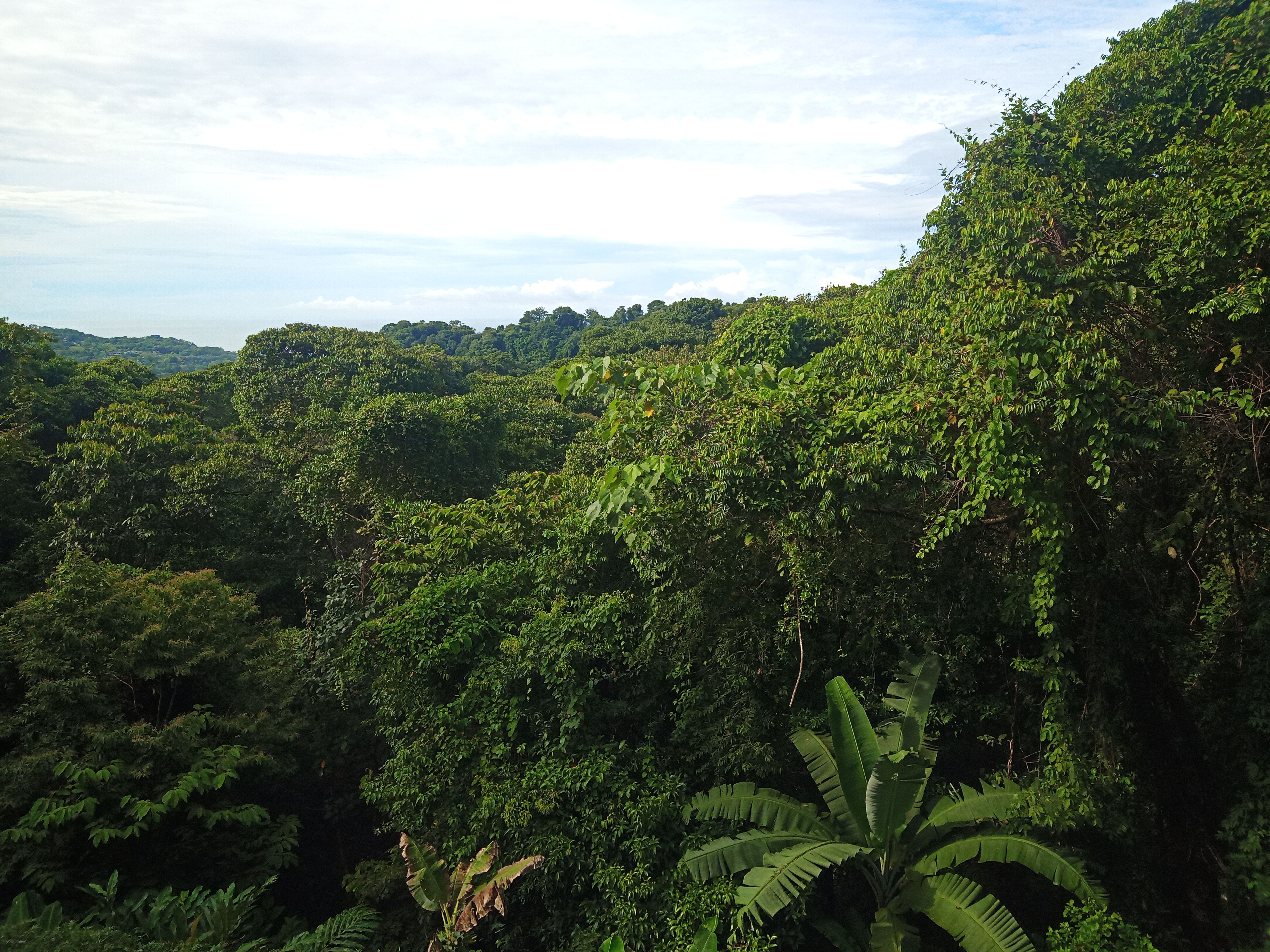 Let's zoom in to 100% (it's full resolution) and look at how it handles various sections of the image: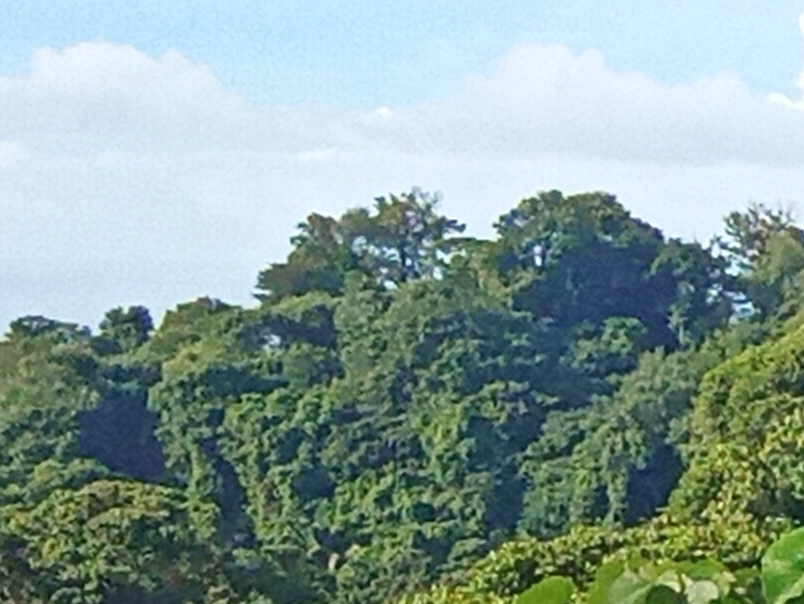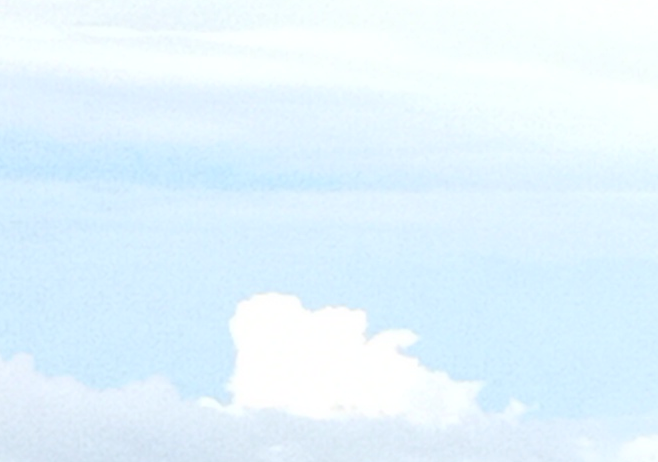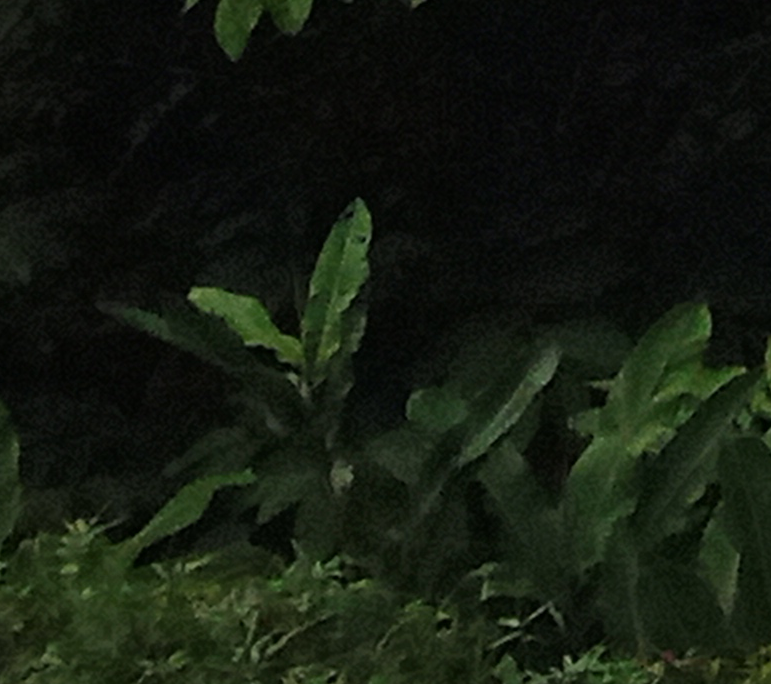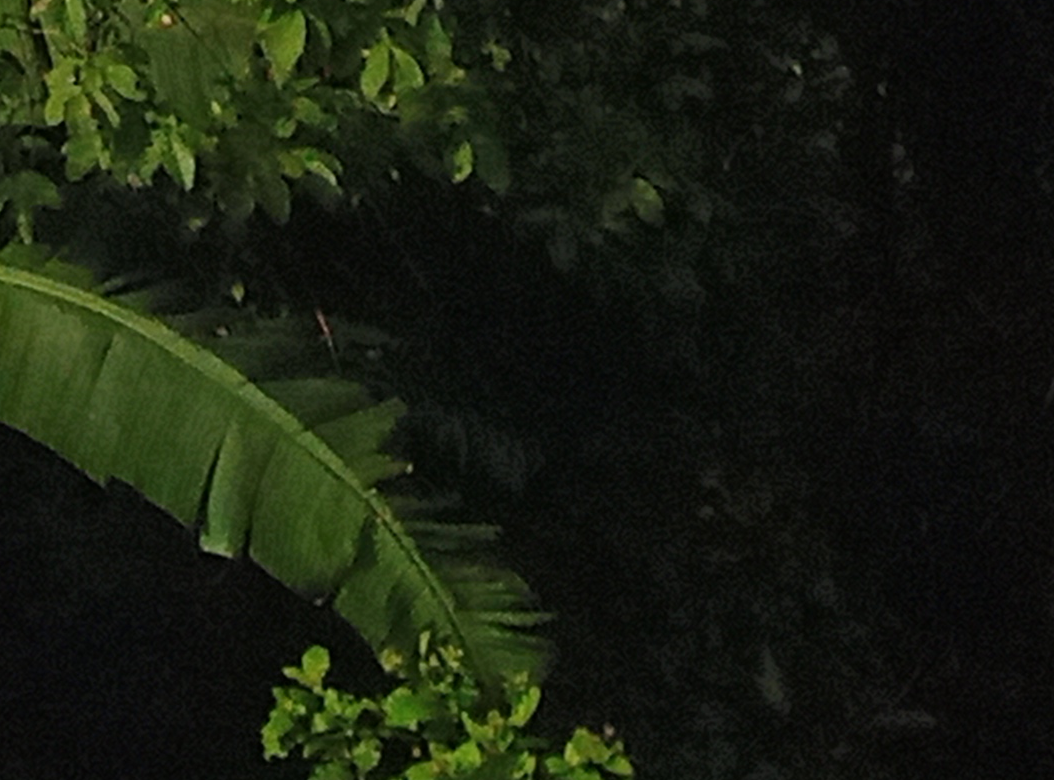 I don't know enough about how digital cameras work to diagnose exactly what's going on here, but it looks like very heavy compression to me. There is no compression option in the default camera app that they ship, but the situation isn't improved any with third party camera apps - I tried half a dozen. Again, these are not zooms; this is the image at full resolution. This would be totally forgivable if I'd zoomed in by 300% or similar, but at the advertised resolution, you'd expect details to be without artifacts. It's not until you zoom out to roughly 30% of resolution that artifacts are no longer visible - but at that point, why bother having such a high resolution?
Video doesn't get off any lighter. Want to pan or having moving things in your video? Sorry, out of luck. As you can see in this quick demo, the video's full of glitches, apparently from a buggy auto-focus algorithm.
Unihertz actually went so far as to send me a developer build (via a google drive link) that apparently fixes this issue. However, it wouldn't install when I attempted to follow their instructions, and customer support basically shrugged it off at that point.
Customer Support / Unihertz
Customer Support …is not great. After the third of the above bugs that I reported, they referred me to their Facebook group and stopped replying. The Facebook group doesn't seem to get that much action from the official support team, and instead posts tend to get answered by volunteers who are comfortable recommending bad ideas like downloading unofficial ports of Google camera from random locations. When they were replying to the early bugs I filed, they'd send me google docs with outdated instructions that no longer matched the UI of the phone. They unapologetically expected their users to deep dive into settings and turn off various things they'd shipped by default. They brushed off features like mesh wifi as not being supported, without any sense that this was a problem.
The device hasn't received security updates from Unihertz since November 2021, and is stuck on Android 11. Development seems to have completely stopped.
Unihertz's business model seems to be cranking out phones with novel hardware, using Kickstarter to fund development - which I'd love to support. The build quality of this phone seems good; I'm reasonably confident I could run this phone for several years without any hardware issues. There are some nice design decisions, like a hardware button for the flashlight (which unfortunately sometimes fails to work when the phone is locked.) However, given that they ship such buggy software, and then apparently abandon development on existing models, I can't ever see buying from Unihertz again.