19 minutes read
— 3997 words
It's fine!
We bought used cars when we moved to Costa Rica. There's significant import tax on pretty much everything down here, meaning that it's expensive to bring your car from the states, and also that the price of new vehicles is significantly marked up. I opted for a Toyota FJ - the secondary roads can get quite washed out during rainy season, and I wanted a reliable vehicle that could get me anywhere. Unfortunately, due to the cheery agreeableness of the tico agent we'd hired to help us find and vet used cars, and our wide-eyed gringo-in-a-new-country naivety, we'd missed that the FJ was both under-vetted and over-abused, which came to light only on the drive home when the dashboard illuminated in a sea of orange. In fact I'd been so sleep deprived (due to a fairly arduous move, which included our four dogs) during the purchase that I hadn't even realized that this was a private party purchase rather than a purchase from a used car dealer (we'd conducted the transaction in the forecourt of what turned out to be a car wash, but that I'd taken to be a dealership), so there wasn't even a warranty.
The suspension had issues. It was perfectly drivable, but get it into the wrong angle on a steep downhill switchback (e.g. one of the curves on our driveway) and you'd get an unhealthy grinding noise. And, off asphalt, there was a significant collection of rattles and squeaks going on down there. So, I took it to a mechanic, and over the course of a few months and several repeated check-ins after I found that one or another thing wasn't fully fixed, we proceeded to get most of the suspension rebuilt (this was all slowed down by pandemic caused supply chain shortages, and subsequent delays on parts). Most, that is, except for the shocks, which we'd tried to avoid touching due to the cost of the parts that were on the vehicle. The prior owner had lifted it by 2", installing fancy Old Man Emu shocks. The mechanic had taken them apart and rebuilt them once, but we eventually came to the conclusion that we needed to replace them.
I'm not going to be rock crawling this thing, so I was fine going back to stock parts. Stock parts were duly ordered from Toyota, several weeks elapsed, and then the mechanic sent me a whatsapp to let me know that the install had been done and that the car was ready, fully done. Great. I picked it up, took it home, and got wrapped up in work for a couple of days. On my next trip down the mountain to the beach, I decided to hit the switchback that had caused the grinding noise at the angle that reproduced the issue, and sure enough I got a loud chchchch from under the car. WTF! After getting back home, I sent the mechanic a whatsapp asking that, although more diplomatically, and he wasn't quite sure.
"The shocks were replaced, right?"
"Yeah buddy, sure they were."
I checked underneath the car and observed that the shocks were both extremely clean and also bright yellow (no branding to be seen on them). I smelled a rat - I wasn't aware of Toyota's habit of using gaudy colors on their parts. I told him I'd bring it by for an inspection. Several days later when I was down in town, I drove past the garage. Bossman wasn't there, but the head mechanic was, and so I showed him what I'd found. I saw a lightbulb go off in his brain.
This was his first week on the job. The prior head mechanic had been fired, and this guy had been poached from the Toyota dealership in San Isidro, an hour away. It was the prior head mechanic who'd been managing the work on my car, and who had been responsible for replacing the shocks. During the new guy's first days on the job, he'd done an inventory of parts in the garage, and had found a set of brand new Toyota shocks in a box on the shelf. Turns out that they didn't fit my FJ (because something about the lift kit meant that the bushings were incompatible, or similar) and so the prior head mechanic had just quietly shelved them, polished up the struts, and told his boss that the job was done. Turns out that bossman, a gringo, wasn't immune to the "agreeableness" communication gap.
Buying shocks myself
We were going to be visiting the US the following week to attend a conference, so I decided that I'd buy shocks online, get them shipped to the airport hotel that we'd be staying in on our last night, and then bring them as checked baggage on the flight back to Costa Rica. I'd be charged import tax at customs at the airport, but I'd save on shipping and avoid any sourcing markup from the mechanic. Plus, I wanted to avoid another fuckup.
I called around a few online offroad outfitters, and eventually tracked down a set of springs and struts that'd work, could be shipped to the hotel on time, and which furthermore came with free shipping. I gratefully read the sales rep my credit card number, and then focused on the rest of the logistics of the upcoming trip. Everything seemed to be going well the day we checked into the hotel and found the fedex boxes waiting for us (I'd called ahead to warn them) in a storage room behind the front desk. The packages were a little larger than I'd been expecting, but no matter - I got a cart from the airport, brought it to our hotel room, and loaded it up with the boxes (and our cases), ready for a bleary eyed early morning wheeling to the check-in desk.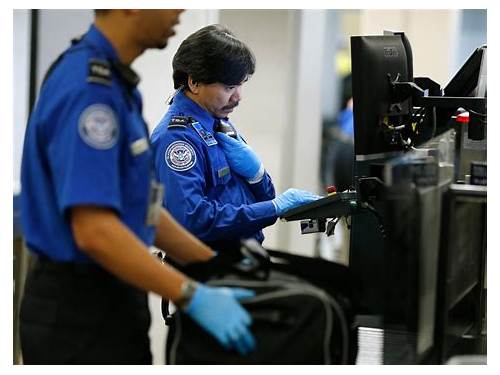 After a reasonable night's sleep, we made the short walk to the airport. The check-in desk agent looked at us slightly askance, and asked what was in the boxes. I told her. She checked with her manager, who nodded and pointed at the "large luggage" conveyer at the end of the row of check-in desks. I passed them to the agent manning the conveyer, got a receipt, and we proceeded on our merry way to the gate.
10 minutes before boarding, the gate agent made an announcement over the PA system that I was needed at the gate desk. My stomach sinking somewhat, I walked up and introduced myself.
"There's a call for you", she said, and passed me the phone handset.
"Mr Fish?"
"Yes."
"This is the manager at the check-in desk. TSA has refused to load your boxes onto the plane."
I closed my eyes for a moment.
"What?"
"They are on the hazardous materials list."
"I read online that they can be shipped."
"The TSA agent has full discretion. They won't load your boxes onto the plane."
"Uh, OK. So what are my options?"
"You can come get the boxes, or we can destroy them."
This was, recollect, 10 minutes before the flight was due to board. There was no way I could get back to the check-in, retrieve the boxes, do something useful with them, and make it back to the gate before the flight left. I wondered if somebody in TSA needed new suspension parts for their car. And what was I going to do anyway, figure out how to ship 80lb boxes internationally via fedex? It'd cost as much as the parts were worth. It was a $500 flight, and they were $1000 parts. Next direct flight wasn't for two days.
"You can't ship them, or put them in storage?"
"No, if you don't come get them, we'll destroy them."
I got on the flight, seething.
The struts from ipanema
On our way towards customs, after grabbing our bags off the conveyer at Juan Santamaria airport, we swung past the large luggage collection area on a whim. I was surprised and excited to see the large cardboard box that I'd shipped the shocks in sitting there waiting for me. Maybe the TSA agent had realized that they were being a pedantic fuck and actually shipped the thousand dollar parts that I'd paid the airline to carry? My temporary wave of optimism closed out abruptly once I lifted the box up to put it on the cart - it wasn't empty, but it was much too light. Having gotten through customs (without a charge, by the way) and to the car, I ripped the TSA tape off the box to discover that the springs had in fact made it, but the struts (the pistons) had not. The springs were worth around 30% of the value of the purchase, so it wasn't a total loss - but it meant that I was now probably locked into finding struts for this particular brand, if I was to get this repair completed.
One of the lifestyle changes a lot of people make when they move to the tropics is to adjust waking hours. The sun rises between 5AM and 6AM year round, and sets just over 12 hours later. Most expats seem to settle into a schedule of lights out before 9PM, and getting up at 5AM or earlier. So, it was during my morning caffeination at 4:30AM a couple of days later that I decided to dig around for suppliers for the struts in or near Costa Rica. Google results are generally low quality these days anyway, but searching business listings in Latin America is made harder by the fact that the internet became popular down here only after Facebook was already well on its way to being a force of nature - so businesses are far more likely to have a Facebook page than they are to have their own web page, and Facebook listings only inconsistently make it into Google results. (Incidentally, for better or worse, Whatsapp - a Facebook product - is universally used to coordinate appointments, and can even be used to order food or report power outages. Handy, but another walled garden that the country is a little too reliant on.) So, I went into the search with low expectations, figuring that I may need to write off the springs and start afresh with another brand.
I was pleasantly surprised, then, to find that the manufacturer had an official Latin America distribution center, in Panama, our nearest neighbor to the south. (Incidentally, a lot of Americans seem to confuse Costa Rica with Puerto Rico - I've been asked by friends and colleagues back in the states "how life is on the island" more times than is really reasonable.) Furthermore, the price wasn't absurdly marked up, and the shipping cost (ground, by Fedex) wasn't too expensive. We live on a mountain with no mailing address (there is no postal service, so many houses don't have formal street or mailing addresses) so I entered the mechanic's address for shipping, and happily placed the order.
After a couple of days, the Fedex tracking page started to show activity, and reported that delivery was expected in two days. I let the mechanic know to be expecting them. The Pan American Highway runs from Panama up through the center of Costa Rica, crossing the spine of several mountain ranges, before descending into Nicaragua. However, after the Pacific coastal road was fully paved in the mid 2000s, most freight trucks from Panama switched to driving up the west coast, and then joining the Pan American Highway either at San Isidro or San Jose by crossing inland, simply because it's a much less tortuous road. We live on the Costa Ballena, quite close to the coastal road, so I'd expected that Fedex would take a direct route - but of course, hub and spoke logistics being what they are, after several days more the location on the tracking page was updated to San Jose, the capital city, a four hour drive from our house. Delivery to our town was now expected tomorrow.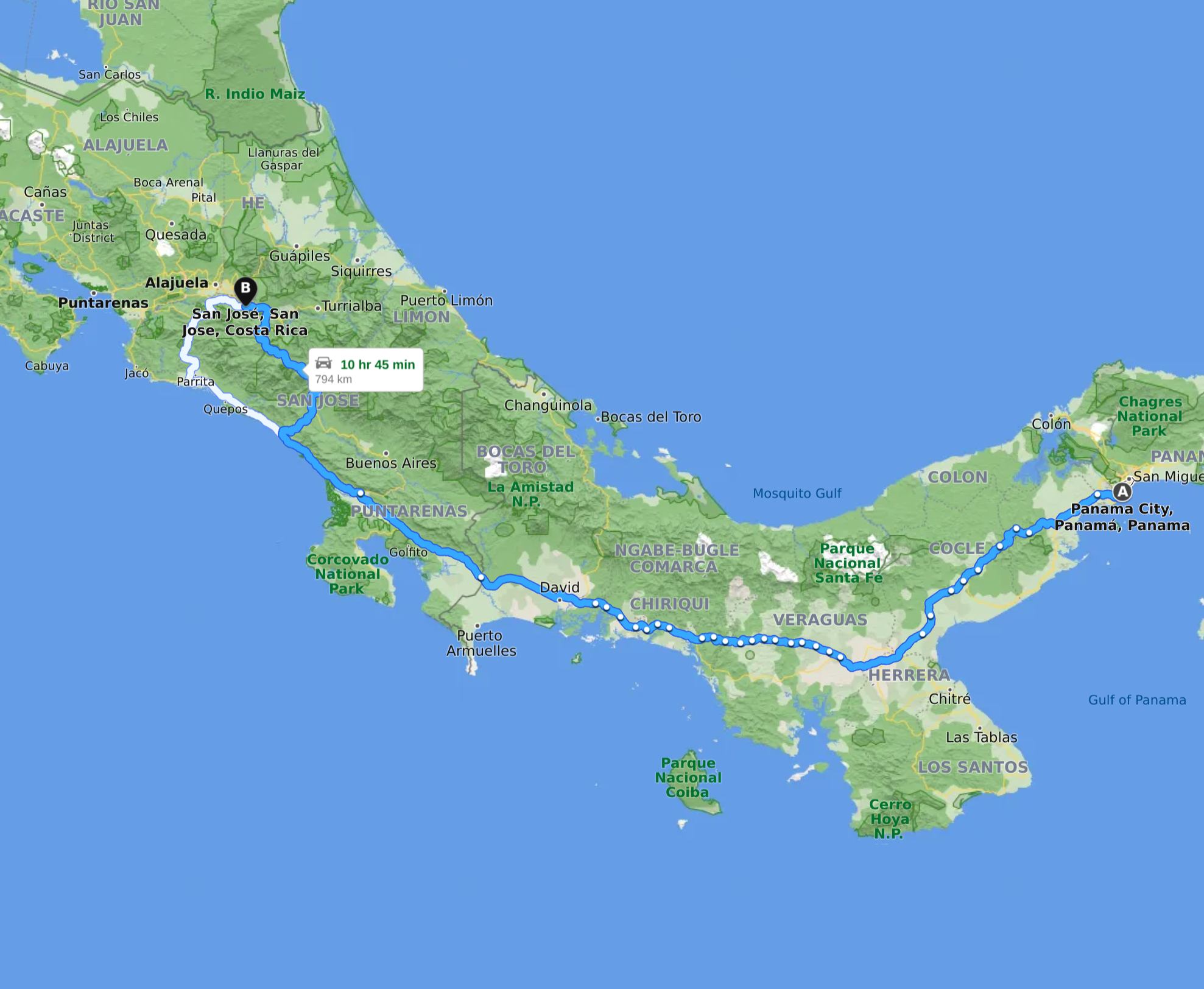 The following afternoon, I received a whatsapp voice message from bossman, the gringo who ran the mechanic's shop. "Hey buddy, your shocks are here. Bring your car in and we'll get this done!"
A little late perhaps, but that had gone surprisingly well. Driving my car down to drop it off, I kicked myself. Why hadn't I just ordered from Panama previously, instead of trying to bring them back from the US? Well, lesson learned, lesson learned.
Once I got there, I took the car directly to the service area and waved to the head mechanic. "Did all of the struts arrive? How do they look?"
"Uh, no, I don't think so?"
"Bossman said the parts had arrived. Fedex dropped them off."
"No…?"
I called bossman on whatsapp. "Headmech says the parts aren't here."
"Oh that's right buddy, Fedex wanted us to pay the import tax, so we didn't accept them."
Many WTFs. "But you told me 45 minutes ago that the parts were here?"
"No, no, we didn't sign for them."
I double checked his prior whatsapp message just to make sure that I hadn't suffered a temporary stroke. What was going on here, exactly? It should be mentioned that the mechanic at this point in the transaction still owed me around $2500 between services not yet performed, and the cost of the parts that I'd paid for and weren't installed. The import tax they'd refused? Around $350. Belatedly, I'd started to sour on this mechanic.
In the penal colony
Once I was back home, I checked the tracking page. It showed "misdelivery" and that the parts were on their way back to San Jose. I also had an email in my inbox from the supplier stating that Fedex would hold the package for up to five days until the taxes were paid, before returning them back to Panama if payment was not received. Irksome. Well, how hard could this be? I called Fedex.
Fedex conversation 1:
"Your package was shipped from where? Oh, no, you need to be talking to Fedex International, we don't handle payments for international packages."
"Can you transfer me then?"
"Sure. One moment please."
I sat on hold for literally 45 minutes before the international agent picked up.
Fedex conversation 2:
Strong Indian accent. "Hello sir?"
"Yes, I need to make a payment for a package."
"You are the shipper?"
"No, I'm the recipient. However, import taxes are due on the shipment, and need to be paid before I can receive it."
"You are the shipper?"
"No, I made the purchase. The items were shipped from Panama to Costa Rica, and I need to pay import tax before they can be delivered."
"Oh, we don't do that here. You need to talk to Fedex Account Services."
"Can you transfer me then?"
"Sure. One moment please."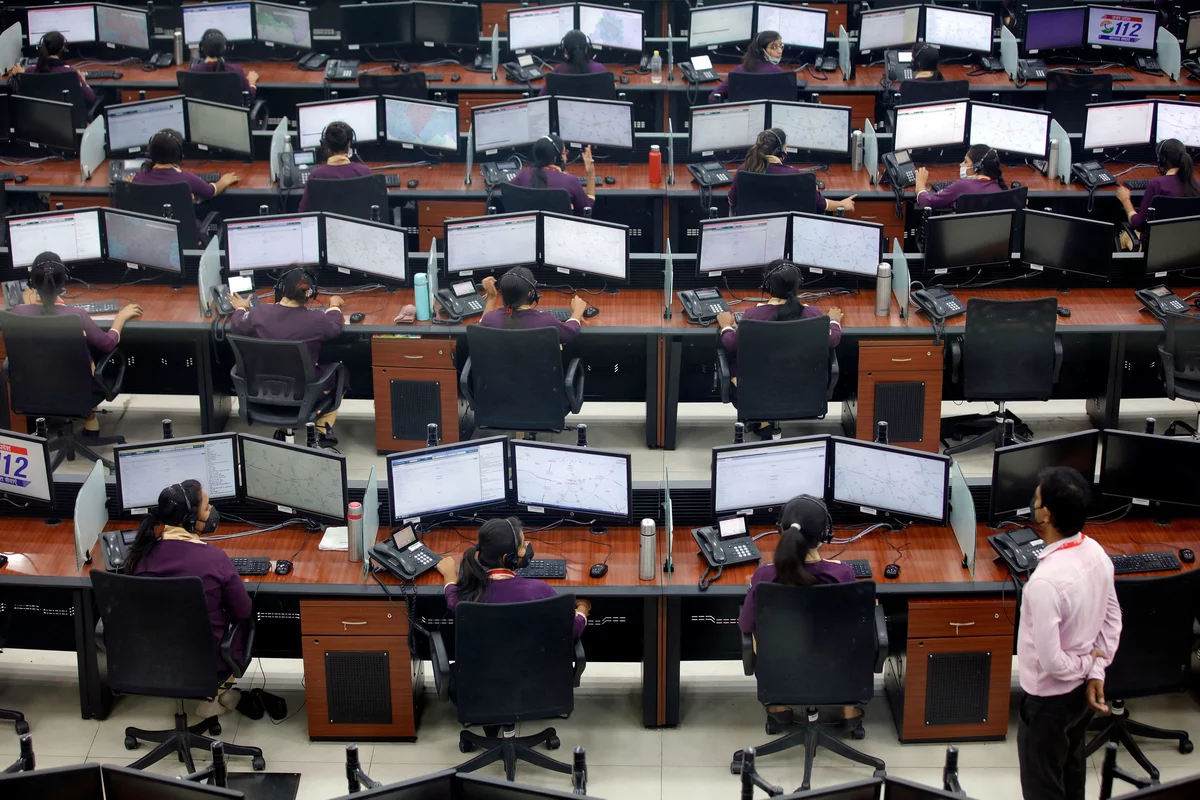 I had a sinking feeling when I heard an IVR announcement that sounded suspiciously like the switchboard of the initial Fedex number that I'd called. Sure enough, an American agent picked up.
Fedex conversation 3:
"Oh, no, you need to be talking to Fedex International. We don't take payments for international packages."
"Uh, please, before you transfer me? I just spent the best part of an hour being transferred to International, and they couldn't help me. They say I need to speak to account services."
The agent took pity on me.
"Do you have a Fedex account?"
"No."
"Well, you need one. Let me just take some details, and then you can sign up online."
"Can I do this while we're on the call?"
"No, it will take some time. But you can call this number back once you're done and make payment here."
"You're sure? The prior agent I talked to said that they can't take payment."
"I'll set it up and leave notes on the account."
"OK, thank you."
After completing the signup, and adding a credit card to my account, I called back.
Fedex conversation 4:
"Ah, no, we'd don't take payments for international packages."
"Wait, wait, please check the notes associated with the shipping number. The prior rep who I spoke to said that I'd be able to make payment with this account."
"OK, let me see."
I waited.
"Well, sir, yes - it appears that you'll be able to make payment online. However, first the Fedex agent at the San Jose office needs to create an invoice and attach it to your Fedex account. That will show up online, and you'll be able to make payment."
"But don't you see the charge that's due on the shipment already?"
"Yes, the charge is showing there. But you won't be able to make payment until we contact the local Fedex agent and they create an invoice. Once the invoice is there, it will show up on your account online."
"OK, that will work. Can you send them a message and ask them to create the invoice?"
"Yes, I will do that."
"Thank you."
The matter of the invoice
The next morning, I excitedly logged into Fedex to see if the invoice had been created. Sadly, it hadn't. I called back that evening, after work. Four days until the package would be returned. Everything is fine. I referred the agent to the notes associated with the shipment.
Fedex conversation 5:
"We don't take payments for international packages."
"I spoke to a colleague of yours yesterday, who was going to contact the local agent in Costa Rica and get an invoice attached to the account."
"No, we don't take payments for international packages. You need to speak to Fedex International."
Zen. Zen. Find it. It's there somewhere. "But I created an account, and the agent I spoke to yesterday said that I'd be able to make a payment once an invoice was attached to the account."
"I don't see an invoice on your account."
"Yes, but your colleague was going to contact the office in Costa Rica and ask them to attach an invoice to the account."
"It doesn't look like they did that."
"OK. Is it possible you can send the Costa Rican agent a message for me?"
"No, I don't have any way to contact them."
"I think your colleague was able to find the contact information?"
"No, I don't think so. You could try Fedex International though."
I closed my eyes. Deep breath. Exhale. "OK, can you transfer me?"
Literally 37 minutes later, an agent picked up.
Strong Indian accent.
Fedex conversation 6:
"No sir, we don't have any way to take payment."
"Right, I know, but what I just said to you was that your colleagues in the US mentioned that you'd be able to contact the agent in Costa Rica to get an invoice added to the account, so that I could then make a payment online."
"You're the shipper?"
"Look, sorry, do you have a way to find the contact information of the agent handling the shipment in Costa Rica?"
"Yes, maybe."
"And could you send them a message asking them to create an invoice?"
"No, I have no way of doing that."
"Um. Well, could you give me their contact information then, please?"
Carlos and the missing link
Three days to go. In receipt of the phone number, I tried calling Carlos Fedexagent the next day. Unfortunately, he didn't speak english, and my spanish wasn't yet up to the task. I sent the parts supplier an email, explaining Fedex's requirements, and passing on Carlos's phone number, asking if they could please call Carlos on my behalf, so that we could get the payment made so that the shipment wouldn't be returned. They got back to me with an email address for Carlos.
With the aid of google translate, I sent Carlos an email - of course I would be delighted to pay import tax in order to receive the package, but I'd need him to create an invoice and attach it to my new Fedex account. The next day I got an email back from him, asking for my house address in Costa Rica. I provided both the shipping address and my house location, explaining that it would be shipped to the mechanic.
One day to go. Radio silence. I emailed him again, politely asking to confirm that he would be creating an invoice. He replied: Yes, please find attached. Sure enough, there was a PDF attachment to the email, and it looked like a legit invoice. Maybe Kafka has left the building? With angelic trumpets soaring triumphantly, I logged into my Fedex account. No sign of the invoice. Still no record of the shipment. Still no way to make payment.
I called the main Fedex switchboard again, and explained the situation again.
Fedex conversation 7:
"The agent has now created an invoice, but I don't see it on my account."
"Do you have an invoice number?"
"Yes, it's…"
"Oh, that's an international invoice. You're going to have to speak to Fedex International."
Literally 48 minutes later, an agent picked up.
Strong Indian accent.
Fedex conversation 8:
"Well, sir, I do see the invoice, but we'll need the agent to create a payment link for you."
"Is it possible you can do that for me? I've been trying to make a payment to Fedex for the last five days. Please take a look at the notes on the shipment file."
"No sir, it's not possible. It needs to be done by the agent."
I sent Carlos an email. Your colleagues state that we need a payment link to be created. Could you do that for me? Please don't send the package back until this is resolved.
He replied: No problem. I am copying Miss Maria Gutierrez for assistance on this matter.
The next day was a Friday, and we were heading out of town for the weekend up into the mountains. I kept an eye on my email throughout the day, but nothing from Maria. I sent a followup email midafternoon, but still received no reply.
The following afternoon, Saturday, I received a call from a US 888 number that I didn't recognize. Usually I let apparent spam calls go to voicemail, but I decided to pick up. It was Visa Fraud Prevention. "Press 1 to review recent declined charges."
Sure enough, Fedex had charged the credit card that I'd entered days before when I signed up for the account. Maria hadn't ever sent me a link. Somebody, somewhere, had just initiated a charge. Maybe the invoice had finally connected with the backoffice system that was in charge of issuing payments. Who knows? In any case, my bank's automatic review system found Fedex's charge suspicious, and had declined it. I called my bank, who assured me that Fedex would retry the payment automatically, and whitelisted Fedex for the following 48 hours to ensure it would go through.
Back home on Monday, I send Carlos an email. Could you please check the status of the delivery? There was a declined charge on Saturday, but it should have gone through now.
Carlos replied: According to our courier was delivered last Friday can you pls confirm?
I called bossman. "Yeah, buddy, your parts are here."
I checked my bank account online. Still no transaction from Fedex showing. And, it never did show.
Fedex had decided to deliver on Friday, without the payment charge having posted. When they subsequently tried to charge the payment again later that week, the temporary whitelisting that my bank had put in place had expired, and Visa Fraud Protection then blocked it again, and again a third and fourth time. But the mechanic now had the parts, and after the circus that Fedex had put me through, I wasn't in a hurry to help them out.
Now that the parts were here, I dropped the car off, and the mechanic replaced the shocks on my car. I'll write a full story about bossman in future.